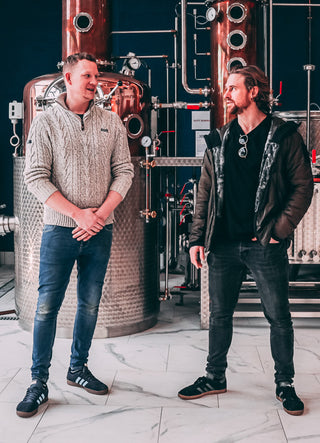 EAST CHASE DISTILLERS
ABOUT US
Everything you see here has been 6 years in the making. From the initial conversation between Luke & Richie in a local bar, to the world class distillery that now exists...
Luke and Richie met at Kenilworth School and have been good friends ever since. After school, they went their separate ways. Luke trained as a plumber, setting up his own business alongside running East Chase Farm, which has been in the family for 5 generations. Meanwhile, Richie joined the military and completed 12 years of service; 3 as a Royal Marines Commando and 9 within UK Special Forces (SBS). Despite their very different paths, they both found themselves at the same crossroads:
"We had spent a long time in our respective careers, but both wanted a completely new challenge. Having been friends for so long we were
confident we would work well together. Five years ago we decided to take the risk on a complete change of direction to start something new, and here we are – at the start of something new".
During a discussion in a local bar, the pair decided to open a distillery, spotting a gap in the market and discovering their mutual love for gin! East Chase Farm, where Luke's family had been for five generations seemed the perfect venue.
"Things have changed over the years and diversification has become a massive part of farming in the UK. This is just another part of diversifying, and there is a
lot going on here, so it's all very exciting."
"We didn't want to just buy bottles off the shelf that could be bought by anyone and just stick a label on. We wanted everything to be our own creation."